Hawkeye Football is quickly approaching!  While you might be dreaming about Hawkeye victories, tailgating, rivalries, trophies and all things Hawkeye, DeGowin is busy making sure we have enough whole blood donors scheduled to meet the blood needs of our community.  All products collected are used locally to help patients at University of Iowa Hospitals & Clinics and UI Stead Family Children's Hospital, who have been diagnosed with cancer or sickle cell disease, have had a trauma or major surgery such as a transplant. They are also used to help our littlest patients, premature infants. Approximately 24,000 blood products are transfused each year.
Finding donors remains one of the most urgent needs to help treat patients and every day UIHC must give blood and blood products to patients as a life-saving force. It is only through the help of donors like YOU who believe in giving back and supporting their community that the DeGowin Blood Center is able to carry out its mission.
Please consider donating locally so we can continue to help our neighbors, co-workers, friends, family and strangers in need.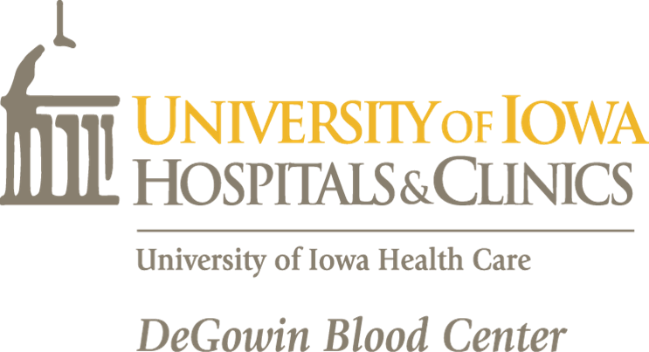 Walk-ins are welcome. However, we recommend you schedule a donation here, plus see the full list of donation dates and locations.
Click to download our here FRYfest donor information packet!
A few things to remember when donating:
Bring a photo ID
Masks will be required for all donors and staff
If you have received a COVID-19 vaccine, it is important to provide the manufacturer when you come to donate. We encourage you to bring your vaccination card to your donation appointment
Be at least 17 years old or 16 years old with signed parent/guardian consent
Drink plenty of fluids and have a good meal before you donate
Be cold or flu symptom free for 5 days
Bring a list of the medications you are taking
Bring a list of the places you have visited outside the U.S. within the last 3 years
The FRYfest Blood Drive will run 9am – 1:30pm.

Please contact the UI DeGowin Blood Center at (319) 356-2058 with any questions or visit their website: www.uihc.org/degowin